Deano
Was any entertainer "cooler" than Dean Martin?
Was any
person,
for that matter?
Was watching the highly-underrated romantic comedy,
Fools Rush In
, with Salma Hayek and Matthew Perry, the other day and during a montage, Martin's
Ain't That a Kick In the Head
was the tune.
That was a song written for Dean Martin to sing.
Just like
Everybody Loves Somebody
and
That's Amore.Kick in the Head
rattled around in my head for a few days.
How lucky can one guy be?I kissed her and she kissed meLike the fella once said"Ain't that a kick in the head?"The room was completely blackI hugged her and she hugged backLike the sailor said, quote"Ain't that a hole in the boat?'My head keeps spinnin'I go to sleep and keep grinnin'If this is just the beginnin'My life is going to be beeeeeautiful
You hear Martin sing it, and it sounds like he's smiling. Deano always sounded like he was smiling when he sang.
I YouTubed the song, just to hear it again and again, and I found a version set to a slideshow of Martin, both on and off the stage.
He was even cool in the intro.
Just before the song plays (it was live, apparently), you can hear Martin speaking to the audience.
"If anyone wants to go to the toilet, now's the time," he says to laughter.
Then, he says to the band, "OK, let 'em have it!" A beat later, the song begins.
Let 'em have it??
Priceless.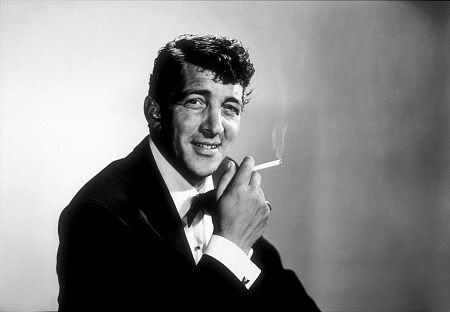 Pay attention: THIS is cool, personified
Then there were the celebrity roasts, which are great fun to look at now on YouTube. Everyone's smoking, drinking, laughing. And the rostrum was full of A-listers. We're talking Bob Hope, Jack Benny, John Wayne. No less.
And Deano, of course, the MC. Either tipsy, or pretending to be.
There were no cooler private eye movies than Martin's "Matt Helm" series from the mid-1960s.
Martin was cool, almost to the point of not taking his career seriously. At least that's my impression. His falling out with Jerry Lewis was legendary. According to what I've read, Martin became burned out and Lewis thought Martin was mailing the performances in. Probably true.
The "Rat Pack" days were marvelously captured in an HBO movie some ten years or so ago. Martin was played by Joe Mantegna, who's only one of the best actors I've ever seen, bar none.
Anyhow, Martin was portrayed as a simple, casual guy who drank milk at home, watched TV, and didn't care to share too much with his wife. Deano preferred to keep things very generic. Easier for him that way.
Martin's singing voice might be considered a little too "lounge singer" for some, but I love it -- mainly because there really haven't been too many like it.
Dean Martin went through his entire career winking at us. That's the best way I can put it.
My wife once told me that when she was a young girl, she wanted to be a Goldigger -- one of the dancers on Martin's TV show in the '70s.
I would have liked to have been Martin -- and not just so I could have a Goldigger play with my hair while another sat on my lap.
How lucky can one guy be?