The Wonderful World of Roy
The Magic Kingdom got a little less magical.
Roy Disney is dead. Roy, the nephew of Walt---and avid competitive sailor---the brilliant leader of Disney's Animation Department, is gone at age 79, from cancer.
For over 56 years, Roy was associated with the company empire that his father, Roy Sr., and Uncle Walt built.
But for the past year, Roy Jr. battled stomach cancer.
"As head of Disney Animation, Roy helped to guide the studio to a new golden age of animation with an unprecedented string of artistic and box office successes that included 'The Little Mermaid,' 'Beauty and the Beast,' 'Aladdin' and 'The Lion King,' " the company said.
There are some companies whose family name will forever resonate. Maybe none more so than Disney, which began way back in 1923.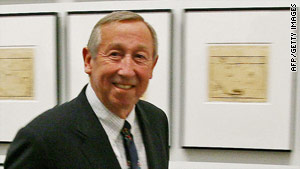 Roy E. Disney: 1930-2009


Roy Disney was a Harvard kid, and got started in the entertainment business in 1952 as an assistant film editor on the "Dragnet" TV series, working under Jack Webb. Disney took the same job a year later at Walt Disney Studios.
It's mind boggling in a way, but think back to all of the Disney animated features you've ever seen, since childhood---not to mention all of the shorts. Then know that just about every one of them was overseen by Roy Disney Jr.
But Roy was no one-dimensional entertainment kind of guy.
He received two Oscar nominations. One was as a writer and production associate on the 1959 short subject film "Mysteries of the Deep," and the second was for his work in 2003 as executive producer of "Destino," a film based on storyboards and original art by the iconic artist Salvador Dali.
And there was his sailing.
Roy Disney held several elapsed-time records for offshore races in the Pacific Ocean, including multiple wins in the 2,225-mile Transpac race between Hawaii and California, according to the company.
Cancer got Walt Disney, too, in 1966, but Walt was only 65. And there's this---Walt died on December 15; Roy succumbed on the 16th.
A private funeral service and cremation are planned, the company said. His ashes will be scattered at sea, it said.
Sailing, remember.