Just Betty
Betty White's been around show business so long it's tempting to ask her if she was an understudy at Ford's Theater the night Abe Lincoln got shot.
Or if she ever shared a stage with Sarah Bernhardt.
White is 88 but if you're only as old as you feel or behave, then she's not old enough to remember the Reagan Administration.
Betty White is refreshing. She uses her real name, for one---and for someone of her generation, that's an anomaly. She really is plain old Betty White. Not Ruth Dingelbratter or Helen McDuffie.
Betty Marion White.
She was born on January 17, 1922 in Oak Park, Illinois---probably when there were no Oak trees and there wasn't a park built yet.
Her family was among the many who headed West in the hopes of something better, during the Great Depression. The Whites ended up in Los Angeles, and Betty graduated from Beverly Hills High School---in 1939.
The woman was a high school senior during just the second of FDR's four terms.
I wonder when the dimples set in.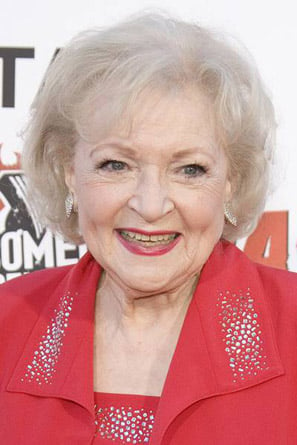 Betty White, 88 years young
White is working on, by my count, her fifth screen career, big and small.
The first was in the 1950s, when she starred in "Life with Elizabeth" from 1952-55--- a sitcom that she also co-produced. Forget Lucille Ball---Betty White was the true pioneer when it came to being a woman who had control both in front of and behind the camera.
White won her first Emmy Award for "Life with Elizabeth."
Betty's second career occurred in the 1960s, when she was a regular on the old "Password" game shows hosted by her eventual husband, Allen Ludden.
The third came as incomparable Sue Ann Nivens, the "Happy Homemaker," on "The Mary Tyler Moore Show" in the 1970s---quite possibly both the creepiest yet most enthralling female character in TV history.
Legend has it that in a production meeting, Moore suggested that the Sue Ann Nivens character be played by "Someone who can play sickeningly sweet. Like Betty White."
The show's producers did one better, and got White herself.
Career number four occurred in the 1990s, when White teamed with Rue McClanahan (who we just lost), Bea Arthur and Estelle Getty on "The Golden Girls." Only White remains with us today.
Betty White's fifth career is happening right now, all around us.
It's Betty's world and we're all just living in it.
There was the marvelous turn as Gammy in 2009's "The Proposal," followed by very public and very feisty support of co-star Sandy Bullock in the wake of the ghastly behavior of Bullock's hubby Jesse James.
She's appeared in commercials and recently hosted "Saturday Night Live."
Now she's set to wow us in TV Land's new original series, "Hot in Cleveland," which debuts this Wednesday night at 10:00 p.m.
White joins the highly underrated Wendie Malick, still cute-as-a-button Valerie Bertinelli, and equally underrated Jane Leeves in the new series.
TV Land's promos have just about featured White, relegating her young whippersnapper co-stars to background players.
And why not?
Betty White is enjoying a career rebirth like none I've ever seen of an actor in their late-80s.
I think it's because White is America's grandmother. All of us can pretty much relate someone in our family to some portion of a character that Betty White has played lo these past 60 years or so.
And don't forget the humanistic Betty White who, as herself, did all those commercials and PSAs for animals' rights and dog food and meds.
In between all the aforementioned highlights have been countless guest shots on various TV shows and cameos in movies and other game show appearances.
Ludden, her third husband, died from stomach cancer in June, 1981 and White has remained single ever since. She has no children of her own, though she inherited four from Ludden's previous marriage.
If you go to
Betty's IMDb page
and scroll down to her Filmography, it reads like an encyclopedia of television history. It's all there---sitcoms and game shows; talk shows and dramas; comedies and variety shows.
Betty White is 88 years old and her career is taking off---again. She's the American Airlines of show business.
One of my all-time favorite lines in television occurred on the final episode of "The Mary Tyler Moore Show."
Murray the writer is lamenting the staff being canned by WJM-TV's new owners.
"Being fired," Murray sighs, "is like being violated."
To which sex-starved Sue Ann Nivens says brightly, "Leave it to Murray to look on the bright side!"
I'll be watching TV Land Wednesday night at 10:00. Can't wait to see what Betty Marion White has cooked up this time.