Peter Principal
Peter Falk put on a trench coat and burrowed his way into our TV-watching psyche forever.
Falk was TV's "Columbo", but that was hardly the ceiling of his talents. Yet it was undoubtedly his most famous role in a career that wasn't too shabby for a guy with less-than-classic good looks, one good eye, and a raspy voice.
Falk passed away yesterday at age 83, having suffered from Alzheimer's Disease.
His brilliance in the role of police Lt. Columbo was that Falk didn't need the typical weapons other cops were using on television, to solve crimes. Columbo didn't need a gun---in fact, he never even carried one---he only needed his brain.
"Columbo" wasn't really a whodunnit, because within the first few minutes of every episode, we already knew who the perp was. The rest of the hour was spent watching Falk peck away at the bad guy's alibi until it resembled Swiss cheese.
Columbo did it all in a disarming---literally---fashion. He was a genuinely likeable fellow who came off, at first blush, as dundering and forgetful. But in reality he was whip smart and a crime-solving genius.
Falk's trademark, "Oh, one more thing," (or something similar) as he was about to leave the bad guy's presence, only to ask another question that invariably caused the suspect's knees to buckle, was one of the show's constants. You just never knew when it was going to occur.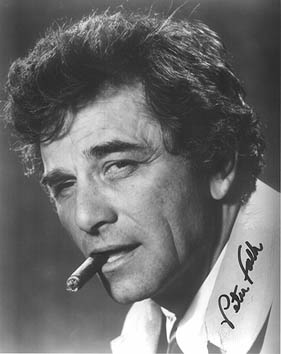 But Falk was more than Columbo. He was a gifted actor whose turn in comedies like "The In-Laws" with Alan Arkin showed Falk's flair for comedic timing and sense of irony. Rent "The In-Laws" if you want to laugh out loud for two hours.
Falk was a New Yorker, born and bred. He had a glass eye (his right eye was surgically removed at age three) and it was after a failed screen test at Columbia Pictures that studio boss Harry Cohn told Falk, "for the same price I can get an actor with two eyes."
The turning point for Falk came in 1960, when he was nominated for an Academy Award for his role as a crime boss in "Murder, Inc." Later in the decade, Falk aligned himself with friend John Cassavetes and made some good movies like "Husbands" and "A Woman Under the Influence."
Then came "Columbo" in the early-1970s, and Falk became indelibly marked in the public's consciousness.
Falk was also an artist, a good chess player, and a huge fan of the NBA's New York Knicks.
It was said that Falk had slipped so badly into dementia that he could no longer remember the character of Lt. Columbo.
How ironic, because we'll never forget it.