Size DOESN'T Matter
When we first saw Danny DeVito, he was behind a cage, his face poking out over a counter.
Despite his small stature, it soon became evident that you couldn't keep DeVito caged forever.
DeVito, 66, filled our living rooms with his bitter venom as Louie De Palma in ABC's "Taxi," starting way back in 1978. His role as the taxi company's boss and dispatcher, pacing behind his caged pen as he spewed words of anger, frustration and exasperation with his employees, made De Palma one of the best-known characters on TV. Not the most well-liked, but one of the best-known.
DeVito was so good as De Palma that it was easy to think he was a mouthy little runt in real life.
Turns out he was a pretty nice guy---and a terrific actor, to boot. And producer. And director. And comedian.
Today, finally---after dozens of his lesser-deserving colleagues received them---DeVito was honored with the 2,445th star on the Hollywood Walk of Fame.
The ceremony was held in connection with the Sept. 13 release of the DVD of the sixth season of "It's Always Sunny in Philadelphia," the FX comedy in which DeVito co-stars as the ne'er-do-well co-owner of a Philadelphia bar.
DeVito's come a long way since his days as a cosmetician. You heard me.
That was DeVito's first job out of high school, back in 1962 in New Jersey (where else?). He worked there because his sister owned the salon.
A year later, he enrolled at New York's American Academy of Dramatic Arts so he could learn more about cosmetology. While at the academy, he fell in love with acting and decided to pursue a career in it.
The career choice didn't exactly pay instant dividends.
His first paying gig was for $60 a week in a one-act play. And this was after years of unemployment.
DeVito scrounged for work in off-Broadway productions before landing a high-profile role in "One Flew Over the Cuckoo's Nest," playing a delusional mental patient named Anthony Martini. He reprised the role in 1975's movie version, which won the Academy Award for Best Picture.
Next was an Emmy Award for his "Taxi" role of De Palma in 1981.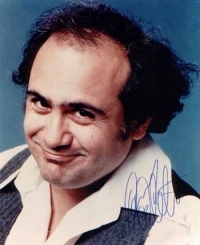 DeVito as Louie De Palma in "Taxi" (1978-83)
You pretty much know the rest; DeVito has been on the small and large screen ever since, often playing the same type of character but in different ways. In some roles, he's almost gotten you to feel sorry for him because there was some soft-heartedness behind the crackly exterior, but thankfully DeVito would eventually remind us why his character was to be detested.
It was way more fun to laugh at and get angry with DeVito's characters than it was to embrace them.
As a director, DeVito helmed "Throw Momma from the Train"; "The War of the Roses"; "Hoffa"; "Matilda"; "Death to Smoochy"; and "Duplex."
Not all hits among that list, but enough of a body of work to be relevant and keep him in the loop of working directors for a time.
The producing credits are even more impressive: the Academy's Best Picture nominee "Erin Brockovich"; "Pulp Fiction"; "Get Shorty"; "Man on the Moon"; "Gattaca" and "Garden State."
DeVito has been a success away from the business, as well, remaining married to actress Rhea Perlman since 1982, and raising three kids with her.
It wasn't until today's news that I realized Danny DeVito
didn't
have a star on the Hollywood walk of Fame. Considering some of those who've been honored in the past, I'd say someone missed the boat---several times---on this one.
"I'll tell you one thing," DeVito once said, "it's a cruel, cruel world."
But today it was very nice to Danny DeVito.
About time.